Peanut butter and chocolate, is there a better union of foods?
I don't think so.
There's something so irresistible about having creamy, nutty peanut butter and rich, decadent chocolate in one bite. It's really no wonder that all over the world people have married these two foods to create delicious creations, like the beloved Reese's pieces.
I was at the market the other day and saw Reese's pieces on sale for $1. (Yes, $1!) They're hard enough to resist as is, but at this bargain price, I knew I couldn't pass on this deal. In fact, I bought four. 🙂
After indulging in 20-too many of these addicting candies, I decided to experiment with the remaining ones to come up with Reese's pieces cookies.
The cookies turned out chewy and rich – with hints of peanut butter in every bite. The candy-shelled Reese's pieces added a wonderful crunch, too.
By the way, I loved these cookies so much that I included a version of this recipe in my cookbook Beach House Baking.
One final tip: don't hesitate to make the full batch of these cookies as they are even better the next day!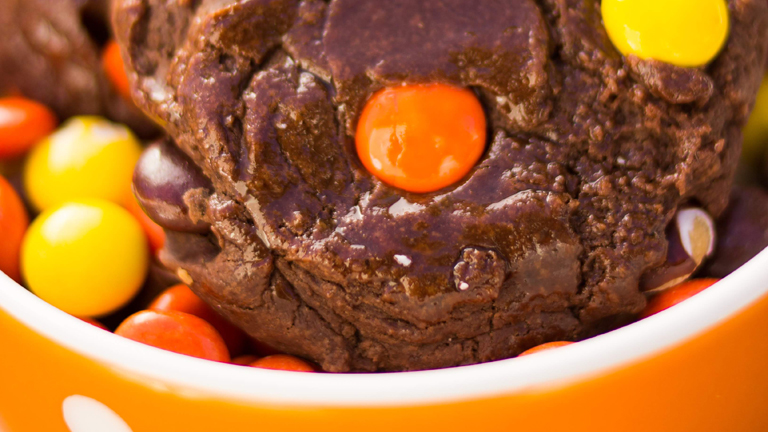 Print Recipe
Reese's Pieces Chocolate Drops
Directions
Preheat oven to 350 degrees. Line two cookie sheets with aluminum foil or parchment paper. Set aside.

Melt chocolate chips and butter in a medium saucepan over low heat.

Remove from heat and transfer chocolate mixture to a mixer fitted with a paddle attachment. Add the condensed milk and vanilla extract. Mix on low speed until incorporated.

Mix in the flour, baking powder and salt. Fold in the Reese's® pieces by hand with a rubber spatula and mix just until combined.

Scoop the dough onto the prepared trays (I use a small 1-ounce ice cream scoop). If desired, decorate the tops with more Reese's pieces.

Bake for 14 to 15 until cookies are set, rotating once halfway. Tops will be slightly crackly. Let the cookies cool on the sheet pans for at least 10 minutes before serving.
Nutrition
Calories:
210
kcal
|
Carbohydrates:
25
g
|
Protein:
4
g
|
Fat:
11
g
|
Saturated Fat:
7
g
|
Polyunsaturated Fat:
0.5
g
|
Monounsaturated Fat:
3
g
|
Trans Fat:
0.1
g
|
Cholesterol:
12
mg
|
Sodium:
80
mg
|
Potassium:
176
mg
|
Fiber:
2
g
|
Sugar:
18
g
|
Vitamin A:
110
IU
|
Vitamin C:
0.4
mg
|
Calcium:
72
mg
|
Iron:
1
mg