Have you ever bought a bag of carrots for a pot roast stew and ended up with half a bag of unused carrots sitting in your refrigerator for days?
Well, I find myself in that situation more often than naught. Woe is me as I'm left racking my brain wondering what to make with them as they slowly dry out in the vegetable drawer.
This carrot bundt cake is a PERFECT solution.
My recipe uses 3 to 4 carrots which is probably what you left in your fridge RIGHT NOW. I like to add plump raisins and walnuts to give the cake some texture. The addition of crushed pineapple keeps the cake moist for days and days and days.
What makes this carrot bundt cake so striking are the bright orange strips of carrot that embellish the top of the cake. In order to ensure that the gorgeous carrot design stays in tack, make sure to grease the bundt cake pan well. Also helpful – don't flip the baked cake out of the pan until it is completely cooled.
If you enjoyed this recipe and want more like it, check out my cookbook Farm to Table Desserts on amazon. 🙂 🙂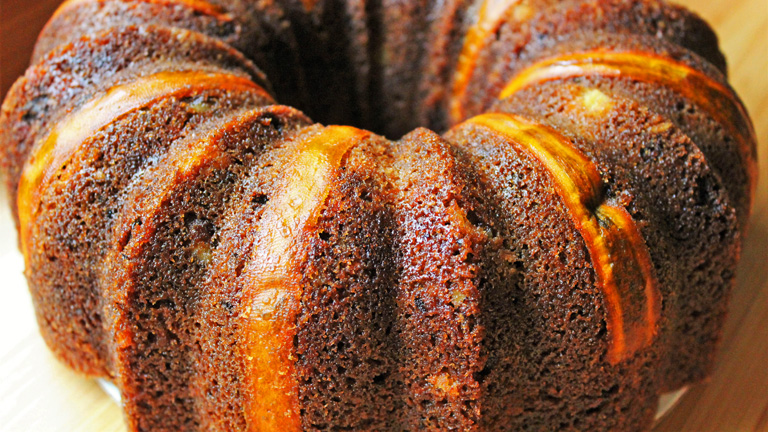 Print Recipe
Carrot Raisin Walnut Cake
Directions
Preheat oven to 325F. Great a 10-inch Bundt pan well. Use a peeler to cut 8 long, thin strips from one of the carrots. Line the Bundt pan with the strips and trim them if necessary. Set aside pan.

Shred 1½ cups of carrots and set aside. Place the raisins in a small bowl and pour the boiling water over them. Set aside to allow the raisins to plump.

Combine the flour, walnuts, baking soda, cinnamon and salt in a large bowl and set aside. Add the eggs, sugar and oil to a mixer fitted with the paddle attachment and mix on low speed until blended. Add the pineapple, shredded carrots and vanilla. Mix until incorporated. Scrape bowl. Add the dry ingredients and the drained raisins. Mix for 1 minutes on low speed. Scrape bowl.

Use a large ice cream scoop to transfer the batter to the prepared pan. Bake for 1 hour 15 minutes or until an inserted toothpick comes out clean. Cool completely before inverting onto serving platter.
Nutrition
Calories:
545
kcal
|
Carbohydrates:
91
g
|
Protein:
10
g
|
Fat:
17
g
|
Saturated Fat:
4
g
|
Cholesterol:
84
mg
|
Sodium:
603
mg
|
Potassium:
346
mg
|
Fiber:
4
g
|
Sugar:
42
g
|
Vitamin A:
130
IU
|
Vitamin C:
9.3
mg
|
Calcium:
53
mg
|
Iron:
3.3
mg