While writing my cookbook Beach House Baking, I tested many different types of blueberry pies. I became obsessed with trying different herb pairings, and after many iterations, the Blueberry Lavender Pie was born. Yes, you read that right– LAVENDER!
I played around with thyme and mint but ultimately decided that lavender was more unique and tasty. Any lingering doubts about using lavender went right out the window when halfway through baking the final iteration, I peeked into the oven and was met with the most delicious, heavenly aroma.
Lavender's floral and citrus notes blend incredibly well with the sweet blueberries in this recipe. I love using herbs in desserts because they add an unexpected flavor profile and an entirely new dimension to dishes.
I made a lattice top crust, which I felt added to the rustic and "wild" nature of the pie, but feel free to use a solid top pie crust if you're in a rush.

If you like this recipe and want more like it, check out my cookbook Beach House Baking on amazon. 🙂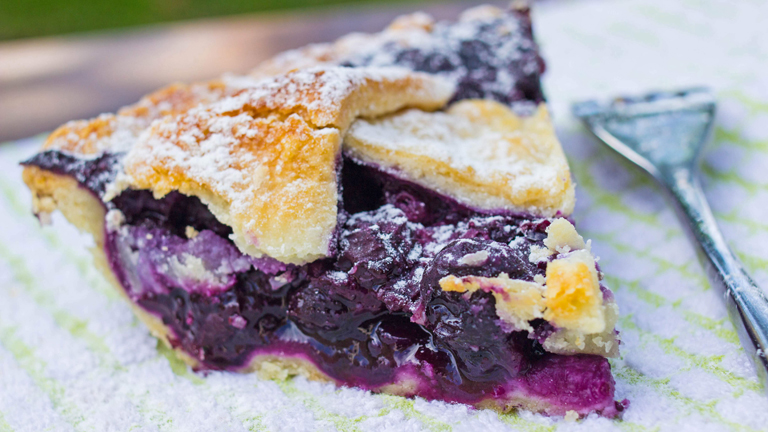 Print Recipe
Blueberry Lavender Pie
Ingredients
Blueberry Filling
½

cup

sugar

3

tablespoons

cornstarch

1

teaspoon

lavender

dried

4

cups

blueberries

fresh

2

tablespoons

butter

(unsalted), melted
Directions
Preheat the oven to 400 degrees.
Prepare the Sweet Butter Crust
In an electric mixer fitted with the paddle attachment, mix together the flour, sugar and butter until pea-size pieces of butter form. Add the ice cold water, and mix just until incorporated. Divide the dough in half. Roll out one half of the dough onto a 9" pie pan. Place the prepared pie shell in the refrigerator until needed. Wrap the remaining dough with saran wrap and place in refrigerator.
Prepare the Blueberry Filling
Whisk together the sugar, cornstarch and dried lavender in a large stainless steel bowl. Add the blueberries and butter. Crush a few berries in bowl with back of rubber spatula. Mix until the berries are coated. Let sit 15 minutes, stirring occasionally.

Remove prepared pie shell from refrigerator. Transfer the blueberry mixture into the crust. Using the remaining pie dough, roll out a top crust or a lattice crust if desired. Crimp the edges decoratively. Place pie in freezer for 5 minutes to set up.

Bake pie for 40 to 45 minutes or until juices bubble up over the crust. Let pie cool completely at room temperature before serving.
Nutrition
Calories:
302
kcal
|
Carbohydrates:
41
g
|
Protein:
2
g
|
Fat:
14
g
|
Saturated Fat:
9
g
|
Cholesterol:
38
mg
|
Sodium:
3
mg
|
Potassium:
77
mg
|
Fiber:
2
g
|
Sugar:
20
g
|
Vitamin A:
480
IU
|
Vitamin C:
7.2
mg
|
Calcium:
12
mg
|
Iron:
1.1
mg