These juicy, herb-stuffed pork chops are served with corn pudding, a rare jewel of a Southern dish. This is a complete meal, perfect for a special occasion.
The corn pudding can be made with fresh or frozen corn kernels. Mix the kernels with egg, cornmeal, sugar, flour, cream, and Parmesan, then bake until golden brown and set.
The stuffed pork chops are seared in a cast iron pan, then finished in the oven with a little stock to keep the chops moist. The heavenly, moist stuffing used to fill the pork chops is made with shallots, parsley, garlic, sage, and breadcrumbs. As it bakes in the oven, your kitchen will seriously smell like Thanksgiving!
Hope you enjoy these stuffed pork chops. They're one of my favorite dishes to make and eat.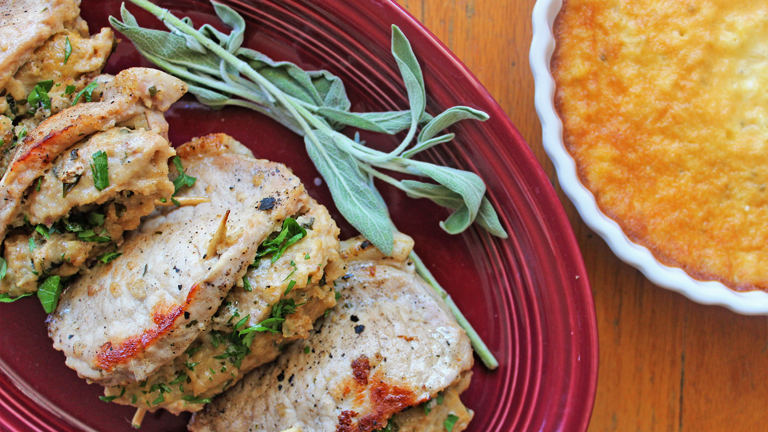 Print Recipe
Stuffed Pork Chops
Ingredients
Stuffed Pork Chops
Directions
Make Corn Pudding:
Preheat oven to 350°F. Grease a small (4-cup) baking dish with 1 tablespoon butter and set aside.

In a large bowl, whisk together the sugar, flour, cornmeal, and baking powder. Add 2 tablespoons melted butter, 1 egg, and heavy cream. Mix well. Stir in the corn kernels, Parmesan, and a pinch of pepper. Transfer to the prepared dish and bake until top is golden brown and center is set, about 30 minutes. Cover to keep warm.
Make Pork Chops:
Melt 2 tablespoons butter in a small sauté pan over medium heat. Add the shallots and garlic and sauté for 3 minutes.

Add the parsley, sage, and ¼ teaspoon salt. Cook until herbs are fragrant, about 30 seconds.

Transfer mixture to a large bowl. Stir in the breadcrumbs and ½ cup stock. Set aside.

Use a sharp knife to cut a deep pocket in each pork chop. Spread a thin layer of mustard in each pocket. Stuff the herb mixture in each pork chop and secure with a toothpick or twine. Season the chops with salt on both sides.

Melt the remaining 2 tablespoons butter in a cast-iron pan over medium heat. Sear the chops until golden brown, about 3 to 4 minutes per side. Add the remaining ¼ cup stock, cover, and bake in oven until internal temperature of pork reaches 145°F, about 8 minutes. Serve warm with the corn pudding.
Nutrition
Calories:
651
kcal
|
Carbohydrates:
47
g
|
Protein:
42
g
|
Fat:
34
g
|
Saturated Fat:
16
g
|
Polyunsaturated Fat:
4
g
|
Monounsaturated Fat:
11
g
|
Trans Fat:
0.5
g
|
Cholesterol:
190
mg
|
Sodium:
930
mg
|
Potassium:
862
mg
|
Fiber:
4
g
|
Sugar:
14
g
|
Vitamin A:
1033
IU
|
Vitamin C:
5
mg
|
Calcium:
192
mg
|
Iron:
4
mg