Welcome to Royal Icing 101!
This is my favorite icing to use when decorating sugar cookies. This royal icing keeps for an entire month when stored in an airtight container. I prefer refrigerating it, but it can be left at room temperature, too.
I love that this royal icing holds up well and is so versatile. I usually make a big batch during the holiday season and use it to decorate treats like sugar cookies and gingerbread men. Use it thick for detail work, or thin it with water and use it for flooding.
The royal icing sets up nice and firm, too, so you can stack your iced cookies in a gift tin without worrying about the icing smearing and making a mess.
To apply the cookie icing, you have three options: dip, pipe/flood, or spread.
I prefer the "spread" method, where I use a mini offset spatula to spread the icing on.
However, if I'm decorating an intricately designed cookie like a snowflake, I use the "pipe/flood" method where I pipe a border of icing along the edge of the cookie first. This creates a border, or "dam," to make sure the "flood" icing does not flow over the edges.
Then, I make my "flood" icing by adding a little water to the icing to thin it out and make it runnier. After the cookie is outlined, pipe the flood icing in the center of the cookie and it will flow out until it reaches the piped border.
Whichever method you choose will work great since this royal icing is very forgiving. Not to mention, it mixes well with food coloring and, most importantly, tastes delicious!
Happy decorating!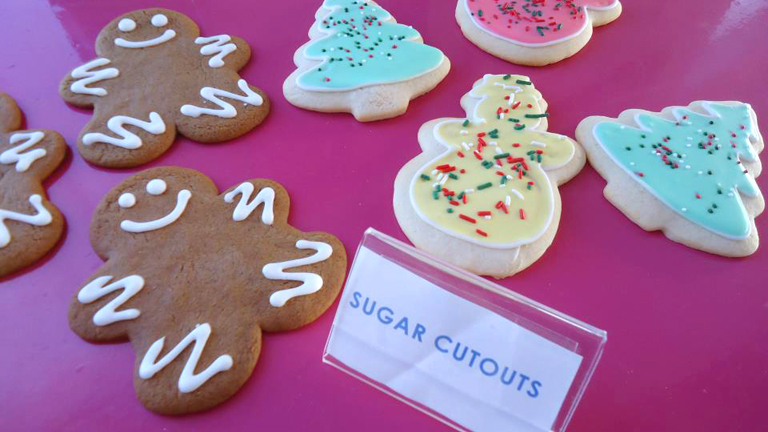 Print Recipe
Royal Icing 101
Directions
In a mixer fitted with the whip attachment, whisk the powdered sugar and meringue powder together. Add the water and beat on high speed until thick and glossy, about 5 to 7 minutes. Add more water if needed. Make sure to store in an airtight container if not using right away.
Nutrition
Calories:
91
kcal
|
Carbohydrates:
23
g
|
Protein:
0.5
g
|
Sodium:
8
mg
|
Potassium:
7
mg
|
Sugar:
22
g
|
Calcium:
1
mg
|
Iron:
0.01
mg