How to make the perfect omelet? It's easy to carried away by adding too many ingredients when making an omelet. I think simpler is better so the wonderful flavor of the egg doesn't get lost.
In this simple and delicious omelet, the sharp cheddar and chive complement the soft egg and showcase what an omelet is really all about.
The trick to making a perfect omelet comes down to these key steps:
Cook over low heat
Cook with butter
Cook the egg undisturbed for the first few minutes
Cook the egg until nearly dry
Follow these steps and your omelet will be wonderfully creamy on the inside and perfectly cooked on the outside. Promise!

If you like this recipe and want more like it, check out my cookbook Beach House Brunch on amazon. 🙂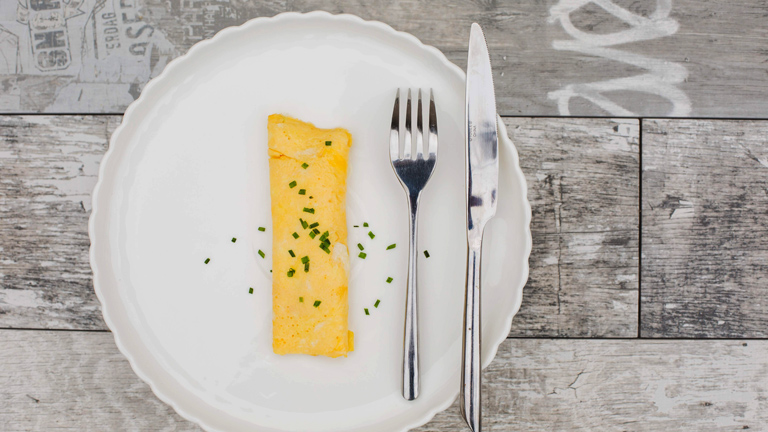 Print Recipe
Omelet with Chive and Cheddar
Ingredients
Directions
Warm an 8-inch saute pan over medium heat. Melt the butter in the pan. Stir in half of the chives and cook for 15 seconds.

Vigorously whisk the eggs, remaining chives, salt and pepper in a small bowl and pour into the pan. Reduce heat to low. Let eggs cook undisturbed for 3 minutes.

Use a rubber spatula to gently move any uncooked eggs on top toward the edges, where the eggs cook faster. Continue slow cooking the eggs until they're nearly dry (you want some uncooked egg left on top since it will continue cooking after you fold the omelet). Sprinkle the cheese down the center of the omelet. Gently flip a third of the egg over the cheese and then roll out onto a plate. Serve immediately.
Nutrition
Calories:
309
kcal
|
Carbohydrates:
2
g
|
Protein:
19
g
|
Fat:
25
g
|
Saturated Fat:
12
g
|
Polyunsaturated Fat:
2
g
|
Monounsaturated Fat:
7
g
|
Trans Fat:
0.3
g
|
Cholesterol:
415
mg
|
Sodium:
328
mg
|
Potassium:
170
mg
|
Fiber:
0.1
g
|
Sugar:
1
g
|
Vitamin A:
1129
IU
|
Vitamin C:
2
mg
|
Calcium:
260
mg
|
Iron:
2
mg