I was recently given a recipe for Chess pie – a dessert I had heard of but never tried. I made the pie one evening and promptly entered into a sugar high that kept me awake most of the night.
The next day, as I came down from my sugar high, I had a thought. It seemed to me that a layer of creamy cheesecake would help tone down the sugary Chess pie filling and complement its chewy texture.
I decided to give it a try.
First, I made a graham cracker crust and pressed it into the bottom and sides of a 9-inch round cake pan.
Then I modified the original Chess pie recipe to have less sugar and a smaller yield. I poured the filling over the graham crust and baked it for 20 minutes.
Next, I made a creamy cheesecake batter and poured it on top of the cooked filling.
Then I placed the cheesecake in a water bath for an hour-long gentle, even bake.
Finally, I let the cheesecake set up overnight in the refrigerator.
The result?
A CREAMY, DECADENT CHEESECAKE WITH A VIBRANT LEMON BAR-ISH CRUST.
YUM.
Please try this recipe. You will not be disappointed.
My Favorite Cheesecake awaits you. Enjoy!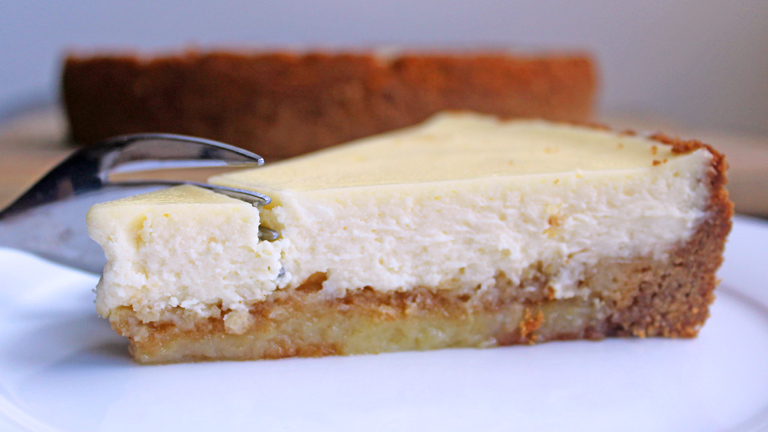 Print Recipe
Lemon Chess Cheesecake
Directions
Make the graham crust:
Preheat oven to 350 degrees. Grease a 9-inch round cake pan and line the bottom with parchment.

Combine graham crumbs and sugar in a small bowl. Mix in the melted butter with your hands.

Press the graham mixture into the bottom and sides of the lined cake pan. The crust should go an inch up the sides. Let the crust chill in refrigerator while you make the filling..
Make the Chess pie filling:
In a large bowl, whisk together the sugar and flour. Add in the remaining ingredients until combined and pour into crust.

Bake for 20 minutes (filling will be slightly puffed - that' s ok!). Place the filling/crust in the freezer to cool for 10 minutes while you make the cheesecake batter.

Reduce oven heat to 325 degrees. Place a water bath in the oven.
Make the cheesecake batter:
In a KitchenAid bowl with the paddle attachment, beat cream cheese until smooth. Mix in the sugar on low/medium speed, followed by the eggs, one at a time. Scrape down bowl. Mix in the sour cream and vanilla.

Remove filling/crust from freezer. Pour the cheesecake batter into the pan.
Bake the cheesecake:
Bake the cheesecake in the water bath for 60 minutes. Remove pan from water bath, and place it in the refrigerator to chill overnight.
Serve the cheesecake:
The next day, run a paring knife around the cheesecake. Flip it out onto a plate and invert it onto a platter for serving.
Nutrition
Serving:
8
g
|
Calories:
516
kcal
|
Carbohydrates:
55
g
|
Protein:
7
g
|
Fat:
31
g
|
Saturated Fat:
17
g
|
Polyunsaturated Fat:
2
g
|
Monounsaturated Fat:
8
g
|
Trans Fat:
0.5
g
|
Cholesterol:
169
mg
|
Sodium:
241
mg
|
Potassium:
151
mg
|
Fiber:
1
g
|
Sugar:
45
g
|
Vitamin A:
1054
IU
|
Vitamin C:
2
mg
|
Calcium:
92
mg
|
Iron:
1
mg