I've been working on a new s'mores dessert for my bakery Sugar Blossom Bake Shop. You know what that means, right? Homemade marshmallows!
I hadn't made marshmallows since culinary school (in other words, eons ago), so it was fun to revisit this classic sugary treat. It was surprisingly easy to make as most of the work was done by my mixer. I recommend making this recipe on a Kitchenaid as there is a lot of whipping required.
I flavored my marshmallows with vanilla and cinnamon, but feel free to experiment on your own. I like jumbo marshmallows so I used an 8×8-inch square pan which made thick marshmallows. If you want to make smaller ones use a 13×9-inch rectangular pan or a 10×10-inch square pan.
Make sure to let the marshmallows set in the refrigerator uncovered overnight before slicing them. After coating the marshmallow pieces with powdered sugar, store them in an airtight container at room temperature for 2 weeks.
These are delicious as is or in hot cocoa. At the bakery, we place them on our chocolate cupcakes before baking. When they come out of the oven, the marshmallow is toasty, puffy, and delicious!
Enjoy!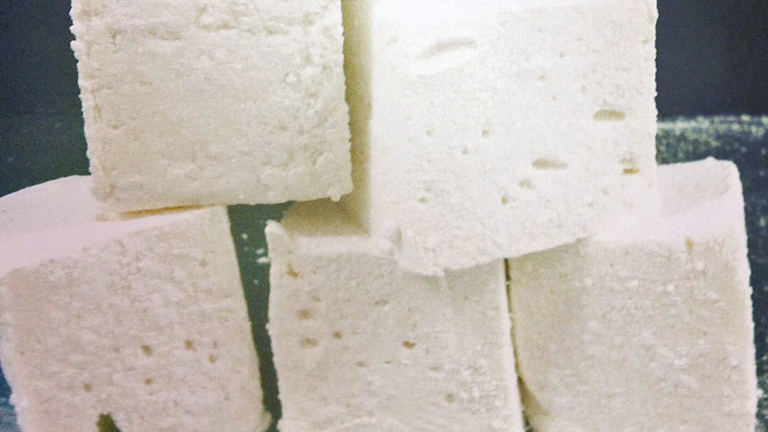 Print Recipe
Fluffy Cinnamon Vanilla Marshmallows
Directions
Pan spray an 8x8-inch square baking pan and dust the bottom and sides with some powdered sugar.

In the bowl of your KitchenAid mixer, sprinkle gelatin over ½ cup cold water and let stand to soften.

In a medium saucepan, bring the remaining water, sugar, corn syrup and salt to boil over medium high heat. When mixture reaches 240 degrees, remove from heat and slowly pour hot mixture over softened gelatin. Stir to dissolve gelatin.

Place bowl on stand mixer and whip on high speed until white and thick, about 4 minutes. In a separate Kitchen Aid bowl, whip the whites, vanilla and cinnamon on high speed to stiff peaks. Add the whites to the sugar mixture and beat until combined, about 30 seconds.

Grease a rubber spatula with pan spray and transfer the marshmallow to the prepared square pan. Use a greased mini offset spatula to spread the marshmallow and even out the top. Coat the top with some sifted powdered sugar. Place the uncovered marshmallow in refrigerator overnight.

The next day, run a small thin paring knife around the edges and flip out onto a cutting board. Cut into desired shapes and toss them in some sifted powdered sugar. Place in an airtight container for up to two weeks.
Nutrition
Calories:
254
kcal
|
Carbohydrates:
64
g
|
Protein:
1
g
|
Fat:
0.1
g
|
Saturated Fat:
0.001
g
|
Sodium:
69
mg
|
Potassium:
13
mg
|
Fiber:
0.1
g
|
Sugar:
64
g
|
Vitamin A:
0.5
IU
|
Vitamin C:
0.01
mg
|
Calcium:
5
mg
|
Iron:
0.1
mg