I decided to spend the day bumming around the beach loft, reorganizing my closet, watching football and you guessed it, cooking some dang good fall off the bone pot roast. (Full disclosure, I used a boneless roast but the meat turned out so soft and tender the only way to describe it is fall off the bone!)
I roasted the meat in a Dutch oven for 2-plus long, hunger-inducing hours. The aroma filling the loft was ridunculous!
The most challenging part is waiting for the roast to cook. When the roast was finally done I found that I had snacked on every chip and cracker in my cabinet 🙂 But believe me, it's worth the wait as the result is FALL OFF THE BONE delicious!
All the ingredients are easy to find. In fact, you probably have everything except the boneless chuck in your cupboard ready to be used.
I used a 4 pound boneless chuck roast which was enough for 6 servings.
To start, I made a mixture of salt, garlic powder and freshly ground pepper and rubbed it all over the meat.
I then seared both sides of the meat in a Dutch oven over medium-high heat.
While the meat seared, I combined Lipton onion soup mix, water, red wine vinegar, 2 garlic cloves, 2 bay leaves, and a touch of ketchup in a small bowl and poured it over the meat.
I immediately transferred the Dutch oven to a preheated 350 degree oven and baked it covered on the middle rack. After cooking it for 2.25 hours, I opened the lid and this beauty was staring right back at me.
Mmmmmmm, fall off the bone pot roast!
Wondering what to serve with this? I opted for a baked potato, sauteed turnip and mustard leaves from my garden and a delicious horseradish cream sauce.
If you want more delicious dinner recipes like this, check out my fourth cookbook Beach House Dinners on Amazon. 🙂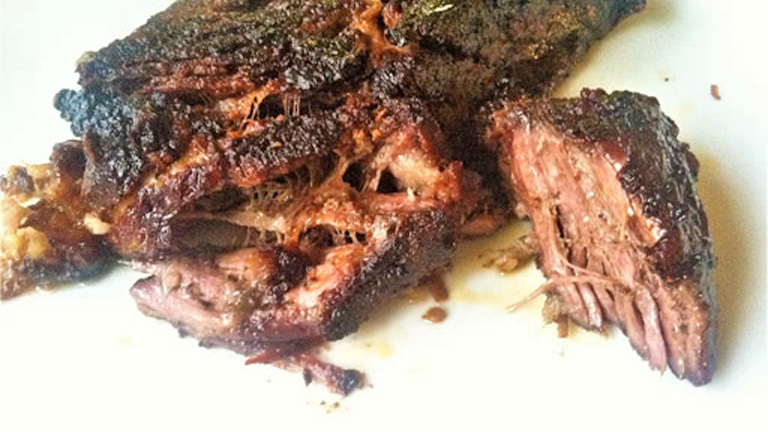 Print Recipe
Pot Roast
Ingredients
2

tablespoons

olive oil

2

teaspoons

garlic powder

½

teaspoon

salt

½

teaspoon

black pepper

freshly ground

1

medium

boneless pot roast

about 3 to 4

1

packet

Lipton onion soup mix

2

cups

water

¼

cup

red wine vinegar

2

tablespoons

ketchup

2

small

bay leaves

2

large cloves

garlic

smashed and peeled

1

small

beef bouillon cube

or chicken bouillon cube
Directions
Preheat oven to 350° F. Warm 2 tablespoons olive oil in a Dutch oven over medium high heat.

Mix the garlic powder, salt and pepper together and rub the mixture all over the roast.

Sear the meat until nicely browned on each side, about 3 minutes per side.

While meat is searing, combine the remaining ingredients in a bowl.

After meat is seared on both sides, remove from heat and pour the soup mixture over the meat. Cover with lid and place on middle rack in oven for 2.25 hours.
Nutrition
Calories:
344
kcal
|
Carbohydrates:
7
g
|
Protein:
44
g
|
Fat:
15
g
|
Saturated Fat:
4
g
|
Polyunsaturated Fat:
1
g
|
Monounsaturated Fat:
8
g
|
Cholesterol:
126
mg
|
Sodium:
1084
mg
|
Potassium:
732
mg
|
Fiber:
1
g
|
Sugar:
2
g
|
Vitamin A:
30
IU
|
Vitamin C:
1
mg
|
Calcium:
47
mg
|
Iron:
4
mg