With berries starting to appear at farmers' markets, I decided to share my recipe for Black and Blue Crostata.
A crostata is a rustic free-form baked tart or pie widely seen in Italy. It may also be baked in a pie plate, which is what I chose to do with my crostata.
A nice change from a typical pie, this sweet crostata has a wonderfully soft cookie-like crust with a preserve-like filling. My black and blue crostata is filled with a mixture of blackberries and blueberries (get it?). 🙂
The berries are first cooked with sugar to create a vibrant, ooey-gooey preserve. Then it's added to the pastry shell and topped with a crust.
Don't be turned off by the lattice top crust – it's easy to make. I walk you through all the steps in the recipe below.
Enjoy!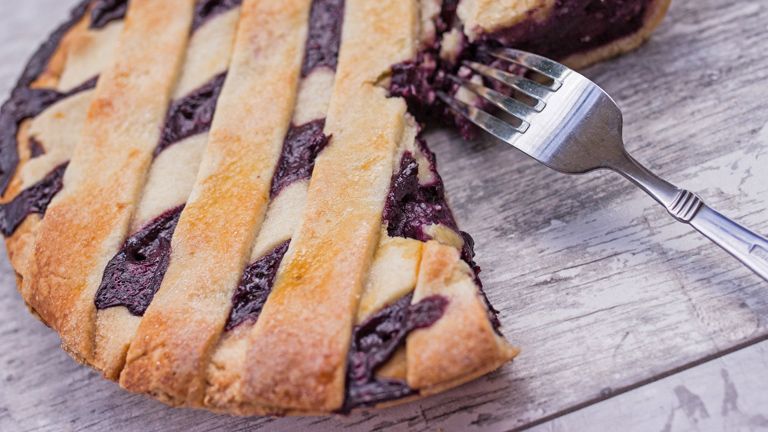 Print Recipe
Black and Blue Crostata
Directions
Make Crust:
In a Kitchen Aid bowl fitted with the paddle attachment, cream the butter and sugar on medium speed until light and fluffy, about 2 minutes. Add the egg and mix for another minute. Add the remaining ingredients and mix just until dough is formed. Shape into two discs, wrap each with saran wrap and let chill in refrigerator 30 minutes.
Make Filling:
Combine the berries, sugar, flour and water in a large bowl. Melt the butter in a deep sauté pan over medium heat and add the berry mixture. Cook mixture for about 4 minutes, stirring occasionally. Mash a third of the berries with a large spoon.

Continue cooking for 3 more minutes until thickened. Transfer to a shallow baking pan and let cool in refrigerator. Stir occasionally to speed up cooling.
Make Crostata:
Remove one disc of dough from refrigerator and roll out to a 10-inch round between two sheets of parchment or wax paper. Remove top paper and flip dough onto 9-inch pie plate. Trim leaving a ½-inch overhang and flip inward. Press dough into the sides such that it is flush with the top of plate. Poke holes into dough with fork and place in refrigerator for 10 minutes.

Remove second disc from refrigerator and roll out to a 10-inch round between two sheets of parchment or wax paper. Remove top paper and cut 10 (1-inch wide) strips. Slide the paper with the strips onto a sheet tray or large plate, and chill for 5 minutes.

Preheat oven to 375 degrees. Place a baking sheet onto the middle rack. Remove pie shell from refrigerator and fill with the berry mixture (lukewarm is fine). Arrange 5 strips across filling, trim ends flush with crust and press them slightly into the crust. Arrange remaining 5 strips diagonally on top of the other strips. Trims edges flush with crust and again press them slightly into the crust. Brush lattice with whisked egg and generously sprinkle with sugar. Bake for 55 minutes until filling bubbles and crust is golden brown. Let crostata cool completely before cutting.
Nutrition
Calories:
462
kcal
|
Carbohydrates:
61
g
|
Protein:
6
g
|
Fat:
22
g
|
Saturated Fat:
13
g
|
Cholesterol:
105
mg
|
Sodium:
170
mg
|
Potassium:
140
mg
|
Fiber:
3
g
|
Sugar:
27
g
|
Vitamin A:
770
IU
|
Vitamin C:
10.6
mg
|
Calcium:
28
mg
|
Iron:
2.4
mg